What I've Learnt about Lesson Planning
My introduction to teaching in higher education was pretty abrupt. Three months into my PhD, my second supervisor at the University of Leicester asked if I would mind teaching a seminar class on Leicester's medieval module, 'Monarchy and Society'. Leicester was short on medievalists that particular term and needed to draft in tutors from elsewhere. I had studied at Leicester as an undergraduate so the staff knew me well and felt I was up to the challenge. I eagerly accepted, excited by the prospect of teaching on a module that I'd studied myself only four years earlier. But this raised a serious issue. I was only 22 and had minimal experience of teaching beyond organising primary school workshops for the University of Nottingham's Vikings for Schools project. How the heck was I going to persuade a group of 18 year olds to fall in love with medieval studies and (more worryingly) convince them that I knew what I was doing?!
I knew my salvation would be effective lesson planning. I had to make sure I was turning up to classes fully prepared with engaging activities that would allow me to steer the discussion in a direction I was comfortable with. This meant that my lessons centred on group work, source analysis, and a lot of material culture studies. My teaching on 'Monarchy and Society' wasn't bad, but it wasn't inspiring either. I didn't know enough about the topics we covered to make it so. But feedback from students reassured me that the activities I was organising were helping them to engage with the subject.
When I started teaching on the University of Nottingham's 'Introduction to the Medieval World' module, I was determined to show my students just how fun and exciting medieval studies can be if approached correctly.
So what have I learnt?
The most important thing I learnt was not to overburden the class with activities. In my first lessons, I tended to arrive with a hoard of tasks for the students to complete, hugely overestimating how much material it was possible to get through in 50 minutes. I've since developed a 'three-point plan' which now forms the crux of my lesson planning:
The 'Three-Point Plan'
Material culture starter activity–

I generally start the class with a task that focuses on material culture. This can be a piece of artwork, a manuscript folio, an object, or any other item that I feel summarises the main issue I want to get across to the class. For example, in a recent seminar on 'Saints' Cults and Pilgrimage', I showed the class an image of a pilgrim sign depicting St Thomas Becket and asked them to think about what it is, who might have owned it, what it depicts, etc. This was a good way to introduce the class to what a pilgrimage is, the types of people who went on pilgrimage, and how important saints' cults were to medieval society.

Main text-based activity(s) – I always make sure that the main bulk of my lesson is focused on the set text (either a primary or secondary source depending on the lesson). When I taught about Magna Carta, the set text was an English translation of the 1215 charter. In advance of this lesson, I assigned each student a different 'character' and asked them to think about how he/ she would have viewed Magna Carta. I then asked them to present their perspective to the rest of the class. This enabled us to discuss the impact Magna Carta had on a range of people: noblewomen, peasants, felons, rebel barons, and even kings John of England and Alexander II of Scotland. The class enjoyed the structure this gave to their reading and were more willing to engage than they might have been had we simply discussed the text as a group.
Reflection/ critical thought task – I like to finish off with a task that makes the class reflect on and challenge what they've learnt. When we covered 'The Vikings in Anglo-Saxon England', we spent the entire lesson looking at the conflicts that took place between the Vikings and Anglo-Saxons without thinking much about the cultural similarities between these two peoples. As a closing activity, I created a PowerPoint slide full of unlabelled artefacts from the Viking Age. I placed all the Viking artefacts on one side and the Anglo-Saxon ones on the other. I asked the class to discuss in pairs what each of these objects might be and then to decide which side was Viking and which was Anglo-Saxon. Predictably, they found it hard to distinguish between the two sides, enabling me to stress the cultural assimilation that occurred in Viking Age England.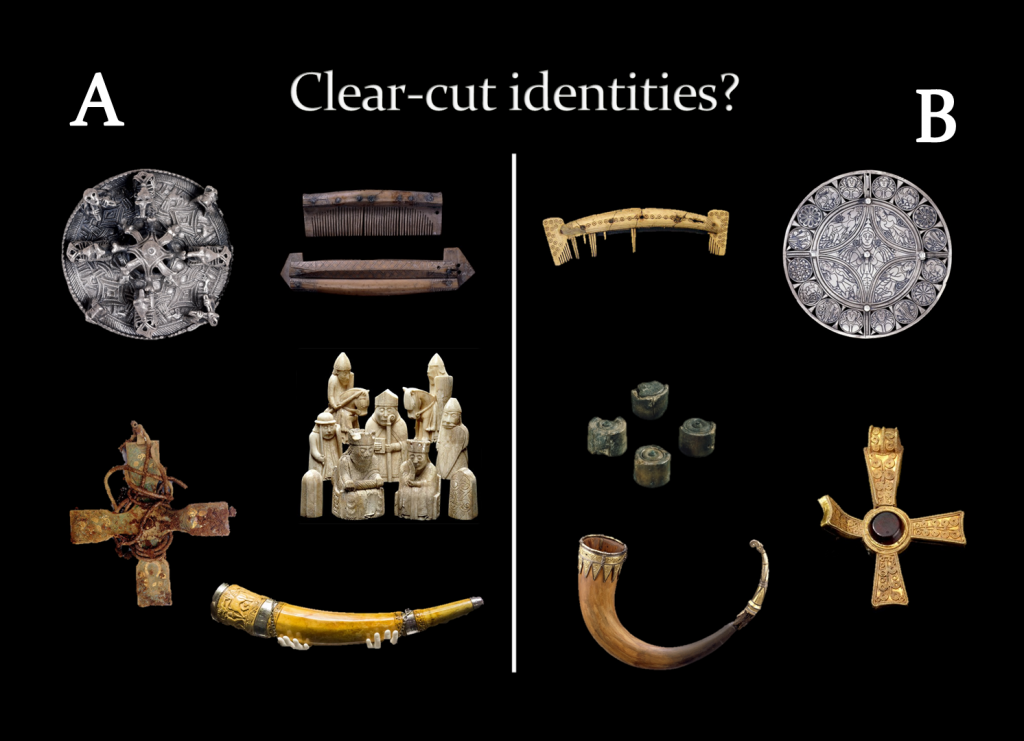 Using this 'three-point plan' cut my lesson planning time in half. I now know exactly what I want to achieve from my lessons before I even start to plan them. I highly encourage new teachers to adopt a similar scheme, since one of the biggest issues all new teachers face is figuring out how to plan good lessons without spending too much time on them! I learnt this lesson the hard way, as the first year of my PhD was burdened with teaching-related stress that many of my peers had yet to experience. But looking back on that year, I know it's made me a stronger teacher and I feel I've finally achieved my initial aim: to convince my students to view medieval studies with as much excitement as I do!