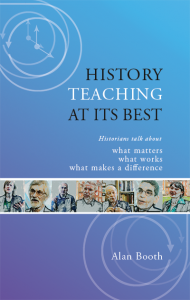 History Teaching At Its Best: Historians talk about what matters, what works and what makes a difference.
Alan Booth, University of Nottingham, UK
March 2014: 236pp
Pb: 978-0-9928218-0-7: £19.99
All profits from book sales are used to help maintain and enhance this website
Why teach history? What marks out the best teachers? What approaches and methods work best? What helps most in developing as a teacher in higher education? What can lecturers and departments do to enhance teaching in ways that work for them and their students? What's the best advice for anyone starting out as a teacher? These are some of the questions addressed in this essential resource for those new to teaching, experienced teachers who wish to refresh their practice, and departmental leaders and policy makers who want to plan for effective teaching.
History Teaching At Its Best captures the voices of over 200 professional historians in their work as teachers in higher education and uses these to explore their reflections on their lives as educators and their perspectives on the purposes and practice of history teaching. It offers practical guidance on what makes for great teaching and an accessible introduction to the current state of play in the scholarship of teaching and learning in history.
Contents: Introduction; Historians as Educators; A Subject with Scope: Love, Passion and Motivation; What Matters: Hopes and Outcomes for Students; What the Best History Teachers Do: History in the Classroom; Developing as a Teacher; Becoming the Best We Can Be: Summary Advice and Implications for Lecturers and Departments
'This is a very valuable work that is appearing at just the right time. It is very rich material and is beautifully presented. It will be particularly useful to new instructors (I would love to see it become a standard gift to new faculty). But it also provides important perspectives on what is going on in the scholarship of teaching and learning … So much that is written about teaching ignores the experienced reality of the purveyors of the subject. As we should know, as historians, this is the route to institutional failure. The kinds of experiences captured so well here must be part of any strategy to enhance teaching that can be successful.' Professor David Pace, Indiana University, USA.
'Alan Booth makes a subject-specific intervention that draws in wider pedagogic literature and, as such, his observations are likely to resonate with tutors – it is, after all, the voices of practitioners and their views on the discipline that dominate the book; historians speaking to other historians in their own language.  Written with great empathy and with thought-provoking questions at the end of each section, this book is an invaluable resource for those undertaking institutional training courses or those who simply wish to pause to re-evaluate their current practice. Policy makers and university administrators would also do well to read this book in order to understand the consequences of their decisions on the study of history but also the opportunities they so often fail to exploit.' Professor Jo Fox, Durham University, UK
'I enjoyed reading this immensely. It offers wonderful insights into the many layers of history teaching, many resonating with my own Australian experiences. At the same time the reader is supported with guided reflection – very useful for history teachers thinking about their practice as well as an essential text for pre-service/ new academics. This book is a pleasure to read. I think it will be a very useful resource for new history teachers but also an affirming and thought-provoking one for more experienced teachers.' Dr Adele Nye, University of New England, Australia.